Five things to look for when starting important health conversations with parents.
The holidays bring an opportunity to connect with family and begin the conversation about the health of aging parents.
"While the role reversal in caregiving is uncomfortable, children are sometimes the first to notice subtle health issues that aging parents overlook."
Sometimes health problems with parents become obvious after spending time away. You may notice your father is not hearing conversations. Perhaps your mom has lost a shocking amount of weight or she isn't moving well. Other issues are not as noticeable and may require frank discussions.
"Getting your parents to open up about their health can be difficult because aging parents can be reluctant to burden their children," said Dr. James S. Powers, a geriatrician at Vanderbilt Primary Care, Village at Vanderbilt. "While the role reversal in caregiving is uncomfortable, children are sometimes the first to notice subtle health issues that aging parents overlook."
Start an ongoing dialogue
Awareness and having resources to cope with those concerns can go a long way in addressing smaller health issues before they turn into more serious problems that will challenge the entire family. Let your parents know you care and want to help them achieve their goals, Powers advised. This process may involve several conversations and should be the start of an ongoing dialogue.
Powers offered these five tips for spotting issues before they become a problem – and getting those important conversations started early.
How to spot health issues and what to do about them
Are they keeping up with doctor appointments?
Aging parents typically respect the advice of their primary care doctors. Preventive care only works if parents are getting checkups and following through with medications and medical advice. If you see a sore that isn't healing or you discover a parent hasn't had the shingles vaccine, encourage him to see his doctor. Better yet, offer to take Mom or Dad to the appointment and use your time together on the trip home to talk about health concerns.
Have they had these recommended vaccines and tests?
Flu shot: Seniors who contract the flu are more likely to get pneumonia and become hospitalized. If everyone in your family gets the annual flu shot, studies show that individuals within the family are less likely to get the flu.
Updated COVID-19 Vaccine: The updated monovalent vaccine is directed against the Omecron sub-variant XXB.1.5 and is indicated this season for all individuals aged 12 and over. It can be administered two months following any previous COVID-19 vaccination.
Shingles vaccine: The new two-step shingles vaccine, Shingrex, is recommended for all adults over age 50 and is more effective than the previous shingles vaccine. Older adults stand a 30% chance of developing shingles in their lifetime without the vaccine.
Pneumococcal vaccine: Adults 65 and older should talk to their doctor about getting a pneumococcal vaccine to prevent infections caused by the Streptococcus pneumoniae bacterium, which causes some cases of pneumonia, meningitis and sepsis. The updated PCV-20 vaccine requires only one dose and replaces previous pneumococcal vaccines.
Respiratory Syncytial Virus vaccine: This new vaccine is indicated for all persons age 60 and over at risk for respiratory infections and requires only one dose.
Are they staying active?
A twisted ankle or a sore hip can lead to a downward health spiral. Do whatever it takes to keep your parents active. Physical activity is one of the foundations of good health at any age. Regular walks in favorite locations will help maintain your parents' hearts, keep down their weight and promote better sleep.
Are they socially connected?
Enjoying life with friends and family helps everyone stay healthy, regardless of age.
Take time to have one of the most important conversations we can have with loved ones.
The Conversation Project is dedicated to helping people talk about their wishes for end-of-life care.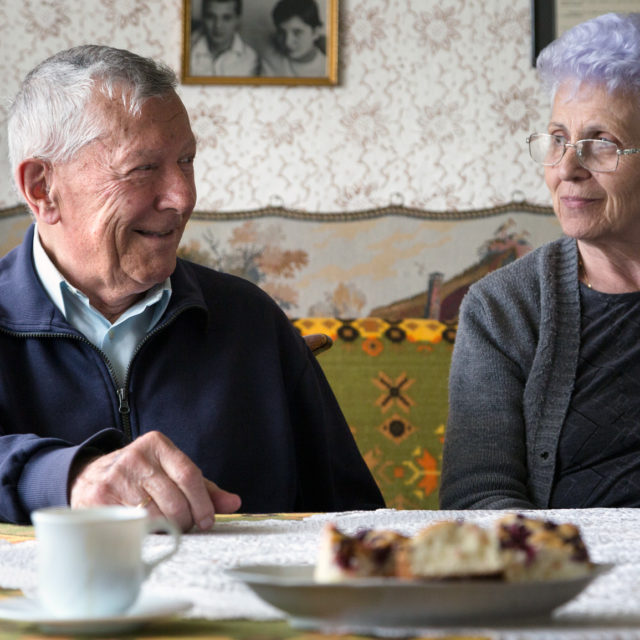 Personalized care for older adults
As your body ages, your health care needs change, too. Vanderbilt Health's Geriatric Care team is dedicated to promoting healthy aging through patient care, medical education and research.