Get vaccinated and do your part to protect the most vulnerable among us.
"Let's all pitch in to protect ourselves and those around us." – William Schaffner, M.D., professor of preventive medicine, Vanderbilt University School of Medicine
We've all heard the reasons for not getting the flu vaccination. "I had the shot and still got the flu." "I never get sick." "I prefer natural immunity." These excuses are all about me, me, me. Let's talk about we.
Even if you are the model of good health, your vaccination protects those around you who may not be as healthy. The tradeoff for your sore arm is protection for your aunt with diabetes, your grandfather with heart disease or a child with asthma. You'll be indirectly protecting your pregnant co-worker or the stranger within sneezing distance who cannot get the vaccine.
People at high risk for flu complications include children younger than 5, adults older than 65, and those with chronic health conditions. Much has been written lately about herd protection. It is the concept that if enough people are immunized against a disease, widespread immunity protects the most vulnerable among us.
There are naysayers who question herd protection and how well the flu vaccine works. It's true that vaccine effectiveness varies from season to season and even among individuals. The CDC publishes detailed studies on vaccine effectiveness. Even if you disregard the studies and the broader community benefits, your flu vaccination has minimal risk and great potential to protect you, your family and your neighbors.
Three ways to counter the flu
Get the flu vaccine.
Stop the spread of germs by avoiding sick people; washing your hands; keeping hands away from your eyes, nose, and mouth; and cleaning surfaces that you touch.
Take antiviral drugs (e.g., Tamiflu) if your doctor prescribes them.
Know the symptoms
The symptoms of a cold and flu can be similar. This video helps parents tell the difference when their child is sick:
https://youtu.be/nv_kfMZWf7U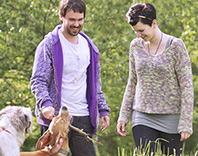 Vanderbilt Health operates a variety of walk-in clinics in Middle Tennessee, including some with Williamson Medical Center, to take care of everything from sprains and sport injuries to flu shots, fevers, coughs and rashes. Search locations and learn more about the conditions treated there.
If you do get sick, use our online flu tool to decide whether self-care at home or a visit to your healthcare provider is in order.