Now that your knee is healing, here's what to know to keep it functioning well.
You can keep your knee healthy by knowing the right way to move and avoiding certain habits. Some activities could harm your artificial knee and may be permanently off-limits for you. Your surgeon and physical therapist will give you specific instructions and advice.
Steve Engstrom, M.D., a Vanderbilt University Medical Center orthopedic surgeon, says an artificial knee can last 15 to 20 years. When he counsels knee-replacement patients, he reminds them that "these numbers are averages. Some knees need to be redone at 10 years, some at 15, and some last well over 20.
"The key," he said, "is regular follow-up to identify problems while they are still relatively easy fixes.
Generally, people who have had knee replacement surgery are advised to keep these do's and don'ts in mind, to keep their new knee functioning at its best in the long term:
Do
Position your knee comfortably as you go about daily activities.
Exercise and walk every day as directed by your care team.
Use an ice pack if your knee starts to swell or feel tender.
Don't
Don't twist your knee. Turn your whole body instead.
Don't jump or do any high-impact activity. It can loosen your new knee joint.
Don't force movements, such as bending your knee too far.
Don't put a pillow behind your knee when you are resting. This may keep you from straightening it fully.
Your orthopedic surgeon will schedule follow-up exams to make sure that your knee is healing correctly. Use this time to ask any questions you have about your recovery, current activities and what additional activities you can add to your routine as you continue to heal.
Much of this advice is good for overall health, not just for healthy joints. For post knee replacement, though, "the time frame starting 6 weeks prior to surgery and ending 6 weeks after is most crucial," Engstrom said. However, "living an active lifestyle with a healthy diet, free from smoking, is something we should all strive for.
Getting a knee replacement means needing to maintain joint health over time, he said. "For a knee replacement, this consists of any exercises and activities that keep the quad muscles strong."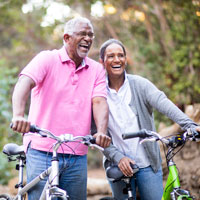 If you are dealing with an injury, facing surgery or coping with chronic pain, Vanderbilt Orthopaedics offers a full spectrum of care. Our specialists work with you from evaluation and "prehab" through physical therapy and, if needed, surgery. We'll help you get back to doing the things you love, pain-free. To make an appointment, call 615-936-7846.