Plus, what makes someone a good candidate for surgery?
We don't think of how often we use our knees until the joints become painful. Chronic knee pain can impact your quality of life by keeping you from doing your favorite activities and hindering your daily movements. Depending on the cause of your chronic knee pain, the treatments you've already tried, and your current health status, a total knee replacement might be a solution.
"A patient who is an excellent candidate for a joint replacement," said Stephen Engstrom, M.D., an adult reconstruction surgeon with Vanderbilt Orthopaedics, "has end stage arthritis of their knee and has failed other points of conservative management and has significant difficulties in their daily life that can be improved with a joint replacement surgery."
Causes of knee pain
A common cause of chronic knee pain is osteoarthritis. "That usually comes from years of wear and tear on the joint and thinning of the cartilage, which exposes the bone underneath, Engstrom said. "That creates inflammation inside the joint and causes pain." Some subtle alignment issues can predispose someone to an earlier onset of osteoarthritis.
Additionally, a prior trauma to the knee can cause post-traumatic arthritis. "If somebody has to have a knee scope for a meniscus tear or an ACL reconstruction, that can lead to arthritis down the line," Engstrom explained. And the autoimmune disease rheumatoid arthritis can also cause degeneration of the cartilage, which could necessitate a knee replacement, he added.
What makes someone a good candidate for surgery?
"Osteoarthritis is a slowly progressive degenerative condition," Engstrom says. "There's not much that can be done to reverse course. And we never can predict how quickly the joint will deteriorate. So our strategy for treatment in those patients is symptomatic management."
But if treatments like physical therapy or joint injections have stopped alleviating pain, then surgery may become a consideration. "Some people really like to hike or really like to walk for leisure," Engstrom said, "and they're finding that the amount they can walk is slowly getting less and less."
However, overall health plays an important role in what makes someone a good candidate for a knee replacement. "Underlying medical issues, especially those that are poorly controlled, can certainly increase the risk associated with joint replacement surgery," Engstrom said.
"The key for patients is to have all medical issues optimized to the best of their ability before proceeding with surgery."
But if someone has poorly controlled diabetes, for example, surgery can be delayed while a patient and their health care team work together for better disease management. "The key is to just have all of their medical issues optimized to the best of their ability before proceeding," he added.
Smoking and morbid obesity are also risk factors that could lead to complication. "Smoking creates a significant disease in the microvascular anatomy of the patient," Engstrom explained, "and it decreases blood flow to basically every organ in the body, and the bone is no exception. So with decreased blood flow, they have a higher risk of infection, wound healing issues, and early loosening of the prosthesis." Obesity can lead to similar complications as well as deep vein thrombosis. Engstrom said patients with a BMI over 40 have a significantly increased risk for complications.
The recovery process after knee surgery is also a consideration. "It's a pretty involved rehabilitation after knee replacement," Engstrom said, "and it requires a significant amount of patient participation." In many cases, patients who receive a knee replacement through Vanderbilt Orthopaedics have the opportunity to rehab at home using an online digital platform, which adds convenience to the process.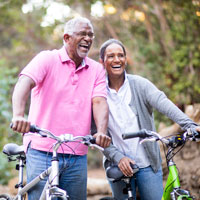 If you are dealing with an injury, facing surgery or coping with chronic pain, Vanderbilt Orthopaedics offers a full spectrum of care. Our specialists work with you from evaluation and "prehab" through physical therapy and, if needed, surgery. We'll help you get back to doing the things you love, pain-free. To make an appointment, call 615-936-7846.