Regain strength and mobility from the comfort of your own home after surgery.
If you're having total knee replacement surgery, the recovery process includes rehabilitation in the weeks after the procedure. Rehabilitation helps you regain mobility and build strength so that the joint can function normally and you can get back to doing daily tasks and the activities you enjoy.
Rehabilitation involves a time commitment, though. But now, thanks to a new online rehab platform, you can perform knee replacement rehab exercises from home rather than going to regular in-person appointments.
"We replace joints when they're worn out and painful," said Gregory Polkowski, M.D., an adult reconstructive surgeon with Vanderbilt Orthopaedics. "And part of that deterioration process usually involves muscles around the joint becoming weak," he added. "Patients need to do exercises to recover those muscles, not only from the effects of having the operation, but also from the chronic weakness that they usually have going into the procedure."
What is virtual rehab?
Vanderbilt Orthopaedics uses an interactive online platform for patients to use to prep for surgery and to recover afterward. This platform does four things, Polkowski said. First, it provides information on what to expect before, during and after your procedure. Next, it offers a virtual physical therapy experience after your surgery so you can rehab at home and on your own time when it's most convenient for you. Third, it offers rapid, real-time communication with your surgeon's staff so that you have access to your health care team. And fourth, it gives you an opportunity to provide feedback to your health care provider on how you are doing as you progress through your knee replacement rehab plan.
How does virtual knee replacement rehab work?
The platform provides you with a daily checklist of exercises for your rehabilitation routine, Polkowski said. Each exercise includes detailed instructions and a high-quality video with someone demonstrating the movements, so you're never left guessing what you're supposed to do. But if you do have questions, you can use the messaging function, which is just like sending a text, Polkowski explained.
What are the benefits of virtual rehab?
The use of the online platform is free to patients after knee replacement surgery. "For some folks, depending on their insurance plan," Polkowski said, "they may have a fairly high copay, and so if they use the platform, they may not need to go and work with physical therapists in their office. It saves them a little bit of money."
However, adding additional in-person rehabilitation down the line is always an option if a patient isn't meeting their mobility or strength milestones or if they run into any other issues. "Everybody's recovery after a knee replacement is variable," Polkowski said. "Everybody's physiology is different. For the patients who need a little bit more, we get them connected with a physical therapist so that they get what they need to recover."
Another plus right now with virtual knee replacement rehab involves the ability to social distance during the COVID-19 pandemic, Polkowski said. The platform allows patients to engage in a structured exercise program after surgery while minimizing their exposure to public places. "And for some patients, that's very reassuring," he said.
Do you need any special tech skills to use the platform?
You need a reliable internet connection on your tablet or computer at home, or a smartphone, Polkowski said. But other than that you don't need to be overly tech-savvy. As long as you know how to send a text message, you should be able to use the app with ease and complete your rehab after joint replacement surgery at home, he added.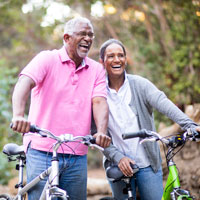 If you are dealing with an injury, facing surgery or coping with chronic pain, Vanderbilt Orthopaedics offers a full spectrum of care. Our specialists work with you from evaluation and "prehab" through physical therapy and, if needed, surgery. We'll help you get back to doing the things you love, pain-free. To make an appointment, call 615-936-7846.