ATV accidents jump as the weather gets warm, and children are more prone to injuries. Here's why.
Wearing a helmet while riding an all-terrain vehicle (ATV), a bike or a skateboard should be a no-brainer. Riders are prone to ATV accidents as the weather gets warm and families enjoy the outdoors.
Experts at Monroe Carell Jr. Children's Hospital at Vanderbilt say wearing a helmet is the best save-the-brain decision anyone enjoying these activities can make.
Wearing a helmet while riding an ATV should be a habit, much like putting on a seat belt when you get in a car, said Stacey Pecenka, manager of the Pediatric Trauma Injury Prevention Program at Monroe Carell. Helmets help absorb the shock of impact in the case of an accident. They protect the brain, and can reduce the severity of a head injury.
Monroe Carell care teams treated 54 children injured in ATV accidents just in the first half of 2022. That was an increased rate over 2021, when 66 children that year were admitted to the hospital with trauma injuries from ATV accidents, Pecenka said.
Two of the most common scenarios emergency personnel discover with ATV accidents — riders not wearing helmets, or more than one person riding the ATV — often result in serious harm.
"What they don't see is how tough some of the injuries can be," Pecenka said. "Road rash, facial injuries, traumatic brain injuries – their lives could be negatively impacted very quickly if they aren't wearing protective gear on ATVs/4-wheelers."

Helmets are the most important gear for ATV riders, but it is also wise to use restraints and wear long sleeves and pants, and appropriate shoes, to prevent or minimize injuries to other parts of the body in addition to the head.
Tennessee law limits driving adult-sized ATVs to those age 16 and up, and requires people under age 18 on an ATV to wear a helmet. But many people are unaware of these laws or ignore them. It's not uncommon for emergency room personnel to treat children much younger than age 16 who have suffered ATV-related injuries, she said.

Children are especially prone to ATV injuries because of lack of experience operating motorized vehicles, lack of psychomotor control and coordination, and lack of judgment that can result in risk-taking behavior and poor decision-making skills.
"It's certainly a normal response to tell your children to go outside for a bit to get some fresh air, sunshine or exercise," said Dr. Harold Lovvorn III, a pediatric surgeon and medical director of Pediatric Trauma at Monroe Carell. "But we will probably need to add a caveat to 'go outside and play.' Maybe it's adding the tag 'and don't forget your helmet.'
"When we send them outdoors for independent activities, we will need to encourage them to wear protective gear and to practice safe play."
Lovvorn said most children don't know how to protect themselves, so gentle reminders about following safe practices are encouraged.
Monroe Carell fully supports recommendations by the American Academy of Pediatrics and the American College of Surgeons that children 16 and under should not ride ATVs, because of the high risk of serious injuries. However, if parents allow their child to ride an ATV despite the known risk that these vehicles pose to children, the following safety measures are strongly recommended:
Always wear protective gear – especially a helmet – when riding ATVs. Head injuries are by far the leading cause of death and disability related to ATV crashes. Helmets are known to reduce head injuries by 85%. Wear a motorcycle or motorized sports helmet and make sure it is certified by the U.S. Department of Transportation or the Snell Memorial Foundation.
Avoid driving ATVs with a passenger, or riding as a passenger. Most ATVs are designed to carry only one person.
Take a hands-on safety training course if one is available in your area.
Do not drive ATVs on paved roads because they are difficult to control. Collisions with cars and other vehicles can be deadly.
Do not permit children to drive or ride adult ATVs. Children are involved in about one-third of all ATV-related deaths and hospital emergency room injuries. Most of these deaths and injuries occur when a child is driving or riding on an adult ATV.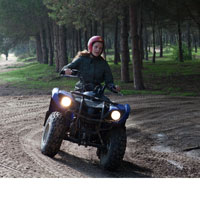 Helping keep children safe
The Injury Prevention Program at Monroe Carell Jr. Children's Hospital at Vanderbilt is a nationally recognized program aimed at reducing traumatic injuries among children, while promoting safe behaviors in the community. Parents can learn more about ATV safety for their children and more at the program's website.