Vanderbilt clinics have flu vaccines available: When should you get your shot?
Vanderbilt clinics are ready for the 2018-2019 flu season with a stock of this year's influenza vaccine, but that doesn't mean everyone should run out and get their flu shots right this minute. You should indeed get vaccinated this fall, but William Schaffner, M.D., professor of Preventive Medicine and Infectious Diseases at Vanderbilt University Medical Center, said timing is important, especially for certain individuals.
When should folks in Middle Tennessee get the flu shot?
The sweet spot for getting vaccinated in the Mid-South is between the end of September through Thanksgiving. You might be tempted to check the flu shot off your to-do list. "But getting vaccinated early may not be the best idea," Schaffner said. "We want that protection to last all the way through March."
Keep in mind that peak flu season for the region is December through the start of spring. Waiting until the end of September or early October is most important for individuals who are pregnant, seniors and anyone with a compromised immune system. Schaffner also has advice for the procrastinators out there. "If you flub it," he said, "you can still get vaccinated after Thanksgiving." Full protection goes into effect about 10 to 14 days after receiving the shot, however.
Who should get the flu shot?
The answer is simple: "If you're older than 6 months of age, just get vaccinated. It's the socially responsible thing to do. None of us want to be the dreaded spreader." You may be the type of person who rarely gets ill, or who has mild symptoms when you do get sick, but that's not a reason to skip out on the shot.
"The flu is a very nasty infection," Schaffner said. "It can take a perfectly healthy child or adult and put them in the intensive care unit in 48 hours. We can't predict who that will be." The only way to prevent such occurrences is getting vaccinated. It will help protect you and those around you.
Who is at higher risk for complications with the flu?
Schaffner highlights three populations who should make getting the flu shot a top priority: pregnant women, individuals over the age of 65 and anyone under 65 with a chronic illness, like heart disease, lung disease or diabetes.
For pregnant women, the vaccine is twofold. "The protection you develop passes through to your baby and will provide some protection during the baby's first six months of life," Schaffner explained. Anyone around individuals who are at risk of flu complications should prioritize getting a flu shot this fall to help create a community of protection.
What do we know about this year's flu season and the vaccine's protection?
"The first thing we know is that there will be flu," Schaffner said. Information about severity and strains shouldn't be a deciding factor on whether individuals get their flu shots. "The flu shot itself is not perfect," Schaffner said. "But it's the best we have at the moment."
And even if you do get the shot and later contract the flu, the vaccine does offer some protection against severity. "You're less likely to get the complication of pneumonia," Schaffner said, "and you're less likely to die." Although no one likes to get sick, it's better to have milder symptoms than ones that land you in the hospital or put you in bed for weeks.
Read more:
Think it's flu? Now you can ask Alexa
Got the flu? Here's why you need to stay home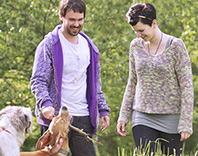 Need a flu shot?
Vanderbilt Health operates a variety of walk-in clinics in Middle Tennessee, including some with Williamson Medical Center, to take care of everything from sprains and sport injuries to flu shots, fevers, coughs and rashes. Search locations and learn more about the conditions treated there.