What to know about medications, injections and more
Most people getting a diagnosis of osteoarthritis in their joints went to the doctor because those joints hurt. Painful, stiff hips, knees or shoulders are common problems that interfere with daily life. If you're feeling this discomfort, of course you want to find relief.
At Vanderbilt Orthopaedics, "improved pain control and improved function is at the heart of many of our conversations with patients suffering from knee and hip arthritis," said physician assistant Kyle Brooks, PAC, who specializes in working with joint replacement patients.
When you are diagnosed with arthritis, your health-care provider should talk with you about strategies for controlling pain. Those methods include medications, injections (known as corticosteroid or hyaluronic acid viscosupplementation), physical therapy and weight loss.
For acute, painful flares not related to a recent surgery, treatment includes changing your activity; over-the-counter medicines; injections (usually steroids, but viscosupplementation injections are another option); losing weight; physical therapy; and low-impact or non-weight-bearing exercise.
Medications that treat arthritis pain
The primary medication treatment options for arthritis joint pain are acetaminophen (Tylenol); and non-steroidal anti-inflammatory drugs (NSAIDs), such as ibuprofen (Motrin, Advil) and naproxen (Aleve). These are over-the-counter medicines. Tylenol is a safe, low-strength pain control medication that is a good option for patients dealing with arthritic joint pain. Like any medication, these medicines should be taken according to the frequency and dosage your doctor suggests for you.
Sometimes NSAIDs can irritate the stomach, so it's best to take them with food. Unfortunately, people with kidney disease should not use NSAIDs. Patients with coronary artery disease and high blood pressure also need to be careful taking NSAIDs. These medications are usually prescribed in a pill form but they also come in a topical form. For certain conditions and for certain people, these creams to rub into the skin are a better option than taking them in pill form.
As for narcotics, they are not prescribed for ongoing pain from joint problems, including osteoarthritis. These powerful and potentially addictive medications are typically prescribed only for pain control after joint replacement surgery.
What to know about injections
As osteoarthritis gets worse, unfortunately it hurts more and interferes more often with normal functioning of the joint. If medications aren't working well enough to manage pain and allow proper function, your doctor may recommend joint injections.
For knee arthritis, there are two main types of injections. The first is corticosteroid — "steroid" — injections. Steroid injections are strong anti-inflammatory medication injected directly into the joint.
"It is important to understand that these injections do not fix or treat arthritis," Brooks said. "Instead, steroid injections simply provide temporary pain control and relief by decreasing the inflammation that is occurring in the joint due to arthritis."

How much pain relief a steroid injection provides can be very different from one person to another. Some people only get relief for a few days; others see improvement for as long as four to six months. Brooks pointed out that patients with diabetes should be aware that steroid injections can increase blood sugar level.
The second type of injection for knee arthritis is viscosupplementation hyaluronic acid injections (sometimes called "gel" injections). Hyaluronic acid is the natural lubricating substance within joint fluid. Viscosupplementation is often done in a series of injections. These work by improving the quality of the joint fluid in an arthritic knee joint. (These injections are only approved by the FDA for use in the knee, not the hip or other joints.) As arthritis in the knee progresses, inflammation and other changes can affect the quality and health of the fluid in the joint.
"I sometimes joke with patients that viscosupplementation injection series are like performing a poor man's oil change for the arthritic knee joint," Brooks said.
For arthritis in the hip, a steroid injection is an option. But the hip joint is located deeper within the body than the knee joint; the doctor needs special visualization to allow the injection. Hip joint steroid injections are usually performed with the guidance of ultrasound or fluoroscopy (X-ray).
How to exercise despite pain
"Exercise is very important for a healthy life and joints, but patients with knee and hip arthritis often struggle with simply moving and walking," Brooks said. He often recommends water-based exercise (swimming, water aerobics or walking in a pool), or low-impact activities (no jumping or running). Walking, cycling on a recumbent or stationary bicycle, or using a rowing machine provide great low-impact cardio exercise.
"I often counsel patients to use pain as their guide when deciding what exercise activities to do," Brooks said. Being overweight can be a major factor contributing to knee and hip arthritis, so finding comfortable ways to increase physical activity and lose weight is important for joint health.
"When taking care of arthritis patients, our primary goal is to alleviate their joint pain, improve their overall function and allow them to hopefully return to the exercise and activities that they most enjoy," Brooks said.
Physical therapy is important for treating weak or dysfunctional muscles and hips, knees and shoulders — but it is not a quick fix for pain. Physical therapy is usually prescribed for people as a follow-up after joint replacement surgery.
Alternative medicine options
Many people are interested in acupuncture, meditation, yoga or massage to get relief from arthritis pain. Brooks is open to these practices, with a caveat.
 "It is important to understand that none of the many alternative treatments such as acupuncture, massage or meditation treat or fix arthritis," Brooks said. But because arthritis pain in the shoulders or limbs can be influenced by many factors, "many of these alternative treatments are sometimes able to provide patients with pain relief from their knee and hip arthritis symptoms. … I am in favor of any safe treatment options that provide patients with pain relief or improved function from their arthritis."  
What about stem cell injections?
Stem cell injections are often advertised for treating knee and hip arthritis. They are not covered by insurance and can be expensive. Brooks cautioned that "biologic and stem cell injections are not recommended by the American Association of Hip and Knee surgeons for the treatment of knee and hip arthritis."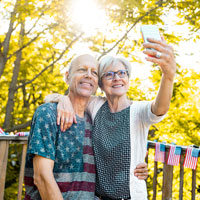 If you have painful, arthritic joints that limit movement, specialists at the Vanderbilt University Medical Center Joint Replacement Program can help you move more easily and comfortably. They provide a range of treatments, from arthroscopy to total hip and knee replacements. Personalized care will help you get back to your normal activities as soon as possible.