Learn about the importance of fetal diagnostic centers and what to expect.
Your OB-GYN may refer you to a fetal care center if your unborn child has a health concern. Understandably, being referred to a fetal center may feel alarming. However, a team of maternal fetal medicine specialists are there to develop a plan of care to achieve the best outcomes for you, your family and your unborn baby.
"The fetal center is composed of maternal fetal medicine physicians, sonographers, social workers, genetic counselors and pediatric consultants," said Emily Whitesell Taylor, a nurse practitioner at The Reed Family Maternal Fetal Clinic at Monroe Carell Jr. Children's Hospital at Vanderbilt. "Patients are sent to the fetal center for either known concerns for the fetus or possibly even just screening."
Who might need a fetal center?
You might need to visit a fetal center if screenings reveal a health concern or the need for more advanced screening than what you might receive at your regular clinic. Such concerns may involve genetic issues or abnormalities in organ systems or anatomy. Examples of health concerns include congenital heart defects, cleft lip and palate, spina bifida, craniosynostosis, fetal anemia and more. Tests may include genetic testing during pregnancy, fetal MRI, fetoscopy, etc.
What does it mean to have your OB-GYN connected to fetal center?
When an OB-GYN is connected to a fetal center, the doctor can easily refer patients for care who may need maternal fetal medicine specialists on their team. "We're then able to take that person, as well as their entire family, and help them to understand the diagnosis, but also to plan for what care will look like throughout pregnancy and delivery and then for the weeks, months and years after the child's born," Taylor said.
Families sometimes must travel a great distance to reach a fetal center. For example, the Fetal Care Center at Monroe Carell is the only fetal center serving Nashville and the surrounding area. Patients come from all over Tennessee, and beyond, to the center for its specialized care.
"Maternal fetal medicine specialists will lay out their recommendations, and oftentimes a general OB-GYN can then see that woman and that family on a routine basis."
The staff at your fetal center will be aware of such issues and can work closely with your preferred OB-GYN. "Maternal fetal medicine specialists will lay out their recommendations, and oftentimes a general OB-GYN can then see that woman and that family on a routine basis," Taylor said.
Because of travel distance and other logistics, often the goal of the first visit with a maternal fetal medicine specialist is to offer families a solid plan that includes determining how often they'll need to return to the fetal center and what to plan regarding delivery. Such plans will vary from patient to patient and their specific circumstances.
Taylor stressed that a referral to a fetal center may simply be needed for additional screenings. "Again, if we do find anything that is concerning, you're going to get that immediate feedback, and we will have a plan for the next steps for the family," she said. "And you're going to get all of that in one consultation."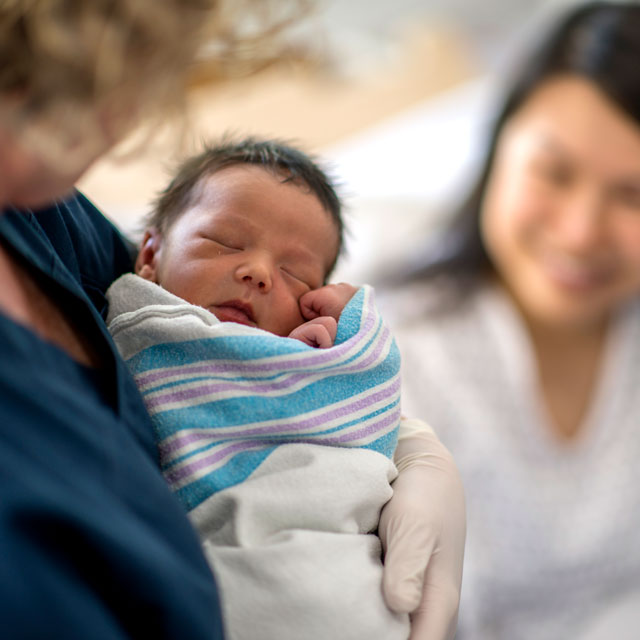 Compassionate care for mom & baby
The Fetal Center at Monroe Carell Children's Hospital at Vanderbilt delivers compassionate, research-based care, offering therapeutic and surgical services based on your and your baby's unique needs. The full Fetal Center team includes sonographers, genetic counselors, patient care coordinators and a social worker.