A fluke illness and a CT scan led to a lung cancer diagnosis — thankfully, an early one.
On a humid summer day in 2006, Taylor Stokes became ill on a plane, from dehydration and inhaling fumes on the jetway. What misery.
Stokes, however, describes that unpleasant experience as "providential." It led to a lung cancer diagnosis.
That hardly sounds happy, either, but tests Stokes underwent in the hospital after his plane landed revealed a tiny mass in his right lung. The nodule had nothing to do with his taking ill on the flight, and the doctor who found it wasn't sure what it was. "It could have been a cloudy piece on the (X-ray) film," Stokes said. A series of follow-up computerized tomography (CT) scans revealed in May 2008 that the nodule had doubled in size in just six months.
Stokes, 57 years old at the time and running a painting company, was referred by his primary care doctor to Eric Grogan, M.D., MPH, a thoracic (chest) surgeon at Vanderbilt University Medical Center.
That kind of rapid growth in a nodule alarms doctors, so Grogan wanted to take a biopsy – a small sample – of the growth, to see if it was cancerous. However, the mass lay near Stokes' heart. Taking a tissue sample there with a needle was too risky. Instead, Stokes underwent surgery, in which Grogan opened Stokes' chest for a direct view of the tumor, which was indeed cancerous. Grogan removed the tumor with the lobe of the lung and lymph nodes during the same operation. It had grown to 2 cm, about the length of a shelled peanut. Thankfully it was in an early stage and had not spread. Stokes has since had annual follow-up scans with Vanderbilt's Lung Screening Program, which have shown no evidence of cancer.
In 2008 as he approached surgery, Stokes didn't know what would result. But he went into that surgery calmly, thanks to deep spiritual faith.
"I was OK with it — because of my belief and strength of faith in God," Stokes recalls. "If this was my time, then it was just my time. I was in a place of peace."
It was not Stokes' time.
A second chance at everything
Since surgery, he's had 10 remarkable cancer-free years. Stokes did not merely survive surgery. He dodged chemotherapy and radiation because his tumor was caught early. Then he got busy, viewing life as a series of second chances to be embraced.
Stokes' Vanderbilt story goes back to 1969, when he was Vanderbilt University's first African-American football scholarship recipient. But he didn't graduate: "My football career didn't go well."
In 1973, Stokes left school, taking over the family's company in Virginia as his father's health was failing. He ran the business successfully for decades, but went through a "devastating" divorce. In 2006, he remarried; that was his second chance at love. The next year, he retired and with his wife, Chandra Stokes, moved to Pleasant View, Tennessee, near Clarksville, where he grew up.
Chandra persuaded him to return to Vanderbilt – a second chance to finish his degree.
"At my age, Vanderbilt was a huge piece I needed to close out," Stokes said.
He discovered a love of learning, and was close to graduation in 2008 when his diagnosis and surgery interfered. After 40-plus years, this was another delay to his degree. But Stokes followed doctors' orders to the letter, to recover from surgery as quickly as possible – a second chance at health. He finally graduated from Vanderbilt in 2009, with an interdisciplinary degree in race, culture and religion.
That degree wasn't the completion of his academic career but just the beginning. Stokes has since earned an MBA from Bethel University, and by 2018 was working toward a Master's of Divinity in pastoral counseling at Liberty University. He expects to graduate in December 2018. Stokes wants to work in pastoral care – a second career – and already serves as associate minister at Lake Providence Missionary Baptist Church in Nashville. He also coaches middle school football, does play-by-play radio broadcasts of football games for his alma mater, Clarksville High School, and helps with football alumni fundraisers – a second chance for a life in football.
Making all the time count
Stokes knows that because his cancer was caught early, he's able to tackle new goals.
"I want to make all the time count," Stokes said. "I don't want to die with any regrets … I used to get juiced about negotiating a contract or finishing a big job. Those were good for that period in my life. But life is about change. I've been able to adjust and adapt to change."
Stokes' resilience comes from his faith and, ironically, from a series of family tragedies. His grandfather died of lung cancer at age 66. His father, Richard, died at age 60 of a massive stroke. Both men were heavy smokers. All three of Stokes' brothers have passed away. One drowned. Another committed suicide. Stokes gets particularly emotional describing the aplastic anemia (blood cancer) that killed his brother, Carl, at age 25.
"A lot of courage I got to face my cancer – my diagnosis, the possibility I might die from that surgery – came from my watching Carl deal with his disease with grace and strength," Stokes said.
"We are acquainted with grief," he said of his family. "But through it all, it's really grown our faith." His own lung cancer experience reinforced his confidence that "I can endure hardship and pain without giving up, and still maintain the strength to go through it." Besides cancer, Stokes says, he has also beaten drug and alcohol addictions and a cigarette habit, quitting smoking more than 20 years ago.
Now Stokes is writing a book, "Finishing Well," the title borrowed from a 2009 Emmy Award-winning documentary about him by Emily Pearce, a Vanderbilt video producer.
"God has let me go back and clean up what I messed up, turning tragedy into triumph. Now my life is about living a significant life," Stokes said. "I want to die living."
Still monitoring lung health a decade later
Stokes returns to Vanderbilt's Lung Screening Program every year for a follow-up CT scan. The program includes a team of doctors, nurses and support staff who monitor patients' lung health with annual checks meant to detect lung cancer as early as possible. Patients are eligible for lung screening from age 50 to 80 if they are smokers with a 20 pack-year history or quit within the last 15 years. For the past decade, Stokes' scans have been clear.
He encourages smokers and ex-smokers to get this lung screening and take their health seriously: "I really want to accentuate, particularly to African-American males: Go see your doctor."
"And," he added, "stop smoking."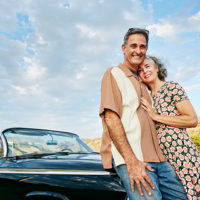 Getting connected
Getting a lung screening at one of Vanderbilt University Medical Center's locations in the greater Nashville area means you're enrolled in a program that reminds you of future yearly screenings and offers help in quitting smoking. Our radiologists are specially trained in reading lung CT scans, so they produce fewer false positive readings than lung screenings at other locations, giving you greater peace of mind. An order from a healthcare provider is needed for lung screening. Talk with your healthcare provider about whether lung screening is right for you. If you do not have a healthcare provider but would like to be screened, call 615-205-9526 for assistance.
Who should be screened for lung cancer? Read more here.