Leftover medications can easily get into the wrong hands; here's how to dispose of medication and when to assess.
For those doing spring cleaning, health care professionals at Monroe Carell Jr. Children's Hospital at Vanderbilt want to add an area to the clean-up list: medicine cabinets.
Cleaning out unused and unwanted medications is an important step in the deep clean and decluttering process, said Erin Quinn, PharmD, pharmacy manager at Children's Hospital.
Quinn suggests disposing of old medications more frequently than once a year. Every six months is better.
Leftover medications stored in cabinets, either in the kitchen or bathrooms, can easily get into the wrong hands, warns Quinn.
"There are a lot of safety benefits to cleaning out the area where you store your household medications," she said. "One is to decrease the potential for accidents. Medication disposal for those that you no longer take reduces the risk of accidental ingestion, either by you or someone else.
"As a pediatric pharmacist, we often think about that population. For infants and toddlers, who are very curious, everything goes in their mouths. Young children may not know what it is because medications can often look like candy."
The Food and Drug Administration reports that accidental exposure to medicine in the home is a major source of unintentional pediatric poisonings in the United States. Each year approximately 60,000 emergency department visits and 450,000 calls to poison centers are made after children less than 6 years old find and ingest medication without caregiver oversight. More than two-thirds of emergency visits for accidental pediatric medication exposures involve 1- or 2- year-old children and nearly 20% result in hospitalization.
Also, for children, medications are weight-based. Quinn mentioned that, as they grow, their weight will change, which could also impact the dosing.
"It's not something many people think about," she said. "You don't want to leave a medication around that someone can mistake as the correct one. It could be confusing."
In Tennessee, the opioid crisis is ongoing. According to the 2018 National Survey on Drug Use and Health, 21.4 million Americans aged 12 and up misused prescription pain relievers, sedatives and stimulants during that year. Many of the abused prescription drugs were obtained from family and friends, with the medications often coming from within the home.
As far as saving antibiotics or acute medications you may not finish?
"They are not one-size fits all," Quinn said. "What works for one person may cause a negative reaction in someone else. As your own medications change, it's important to discuss with a pharmacist or physician other drugs you might take. Some may interact with another drug and can create a health risk."
To begin the process of cleaning out, the pharmacy team at Children's Hospital suggests the following:
Check dates: Once a medication has been opened, the shelf life is compromised. Discard any item, including ointments, supplements and vitamins, that is beyond the expiration date. Discard any medication that is more than one year old.
Throw out any item that has changed color, taste or smell.
Discard any unmarked containers. If an item cannot be identified, get rid of it.
Safely dispose of medications. Do not flush medications down the toilet or toss in the trash. These can pose as toxic risks to the environment. A pharmacy or police department might have medication receptacles or drop boxes. If that is not an option: 1.) Place all medication in a sealable bag. If there are solid medications, add water to dissolve them; 2.) Add kitty litter, coffee grounds, sawdust or any unappealing mixture to discourage children or animals from ingesting; 3.) Seal the bag and put into the trash; 4.) Remove any identifying information, such as the label.
Test medical devices and check supplies. If unsure about an item, bring it to your pharmacy for testing or directions on updating and/or replacing.
Cleaning out medicines and conducting proper medication disposal area great times to replenish essentials for your home. This includes over-the-counter headache, pain or fever-reducing medication, something for motion sickness/nausea, an anti-diarrheal, bandages, allergy medication as well as a Benadryl-type medicine for sudden onset of allergic symptoms, and a thermometer.
"And give some thought to where these items are stored," she added. "Many medications need to be stored away from high humidity (like bathrooms and showers) to prevent damage or loss of effectiveness. Placing them in an airtight container on a high shelf away from children helps to ensure that children don't have access to it."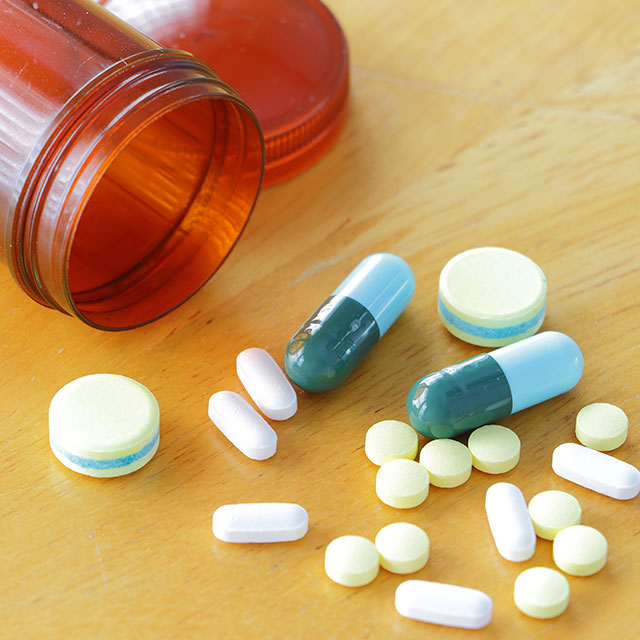 Proper disposal of medications
To check for disposal locations in your area, click below.