Grilled vegetable kebobs are delicious and offer a fun way to cook summer's abundant fresh vegetables.
Cooking vegetables kebob-style — grilled on a skewer — is a great way to use whatever you are growing in your garden, or what is available at your local farmers market. Zucchini, squash, cherry tomatoes, onions and green peppers are perfect for grilled vegetable kebobs.
If you use wooden skewers, be sure to soak them in water for about 15 minutes before grilling — this will prevent them from burning — or use metal skewers. Most grocery stores sell skewers in the kitchen gadget section. For fresh herbs, try basil, oregano, rosemary, thyme, Italian parsley or whatever combination you have on hand. You can always sprinkle dried herbs on your grilled vegetable kebobs, but when fresh herbs are available, they offer wonderful flavor and color, so take advantage of their abundance in the garden or the farmers market in summer.
The vegetables can be served on the skewers as a side dish with grilled meat and some basmati rice. Or, lightly toast a nice ciabatta roll on the grill and add some cheese and the grilled veggies for a simple and healthy meal that is a little out of the ordinary. It's the best for a beat-the-heat meatless Monday, or a Saturday night on the patio with friends. Using the grill for all kinds of food — everything from tomatoes to desserts — keeps the heat out of the kitchen.
Recipe: Grilled Vegetable Kebobs with Herbs
Recipe Type: Vegetables
Serves: 4 skewers
Ingredients
4 wooden skewers
4 small zucchini
4 small yellow squash
1 medium red onion
2 green peppers
Your favorite fresh herbs
Approximately 4 teaspoons of olive oil or canola oil
Approximately 4 tablespoons of balsamic vinegar
Instructions
Soak the skewers in water for about 15 minutes, just before grilling.
While waiting, slice the zucchini and squash in ¼-inch thick rounds; be sure they are thick enough to slide onto the skewer without falling apart.
Peel the onion and cut into chunks, then separate the pieces into the right size and shape for your skewers.
Slice the green peppers into bite-size pieces.
Chop the herbs finely.
When the skewers are ready, remove them from the water and thread the vegetables onto the skewers. Alternate zucchini, squash, onion and peppers to make the skewers colorful and pretty. Lay the skewers on a tray or cookie sheet.
Heat the grill to medium heat.
Brush the vegetables lightly on both sides with oil and vinegar.
Sprinkle the herbs on both sides of the vegetables.
Lay the kebobs on the grill, turning several times, for approximately 10 minutes on each side. You will know they are ready when they are slightly charred and tender.
Serving size: 1 12-inch skewer Calories: 119 Fat: 5 grams Saturated fat: .6 gram Carbohydrates: 18 grams Sodium: 31 milligrams Fiber: 4 grams
Notes
Using tongs works great for turning the kebobs while they are on the grill. For added flavor, try marinating the vegetables in the oil/herb mixture and placing them in a resealable bag for a few hours before skewering. If using cherry tomatoes, skewer them separately, as they will cook faster than the other vegetables.
Stacey Kendrick, MS, is a health educator with more than 20 years of experience in wellness and population health. She is a mother to two adult daughters. In her free time, she teaches healthy cooking classes, runs, gardens and enjoys backyard bonfires.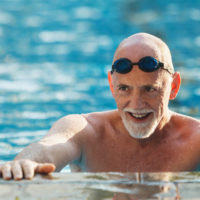 Not feeling well? Vanderbilt Health operates a variety of walk-in clinics in Middle Tennessee, including some with Williamson Medical Center, to take care of everything from mild gastrointestinal symptoms, to sprains and sport injuries, to flu shots, fevers, coughs and rashes.