If you've been diagnosed with bladder cancer, read on for ways to prepare yourself for your initial visits with your provider.
Once you hear the word "cancer," it's completely understandable to feel overwhelmed. "Your brain only hears every other word," said Dr. Katy Beckermann, a medical oncologist at Vanderbilt-Ingram Cancer Center. And then come the questions: What stage is my cancer? How will this be treated? How long? Your mind is reeling.
"That's why, for the first few initial visits, I advise a patient to have more than just their set of ears available to listen," Beckermann said. "That can come in the form of a friend, a family member, a neighbor who's in the healthcare industry. And they don't have to come in person — just ask your provider if you can call someone on speaker."
Beckermann also recommends coming with a list of questions — much like the list below — as well as any scans, disks or other records you might have been given by other providers. It's also helpful to be in touch with your feelings, and to have a clear idea of what you want to get out of the visit. Do you want as much knowledge as possible, or would that overwhelm you? Would you prefer to focus solely on treatment options? Be sure to share those feelings with your provider at the onset.
And lastly, know that you have time. "Not every decision has to be made on that first day," Beckermann said. "It's OK if you need time to process — and it's OK if you want to get a second opinion. Go home and talk with your loved ones, read the literature we give you, and come back next visit with any additional questions you might have."
If you're preparing for your initial appointments for bladder cancer, consider this list of questions a starting point.
How long has this been going on?
What is the stage and grade of my cancer?
Has it spread anywhere else in my body?
What caused this?
Deciding on a treatment
What treatment do you think is best for me? Why?
How much experience do you have treating bladder cancer? How many patients with bladder cancer do you treat a year?
What are the goals of my treatment? Are we trying to cure the cancer, control it, slow it down, shrink it, or control symptoms it's causing?
What's the success rate of this treatment for my type and stage of bladder cancer?
What's the life expectancy for someone with my stage of cancer who gets this treatment?
How long will I get treatment?
When will I know if my bladder can be saved?
When do I need to start treatment?
Will I be able to go to work and be around my family?
Are there any clinical trials I should look into?
Will my insurance pay for treatment?
How much will I have to pay?
How long do I have to decide which treatment I'm going to pursue?
Getting ready for treatment
Should I change my diet? What foods can't I eat?
Are there foods I can eat or supplements I can take to control my cancer?
How long will each treatment take?
Where do I have to go for the treatment?
Who is involved in giving me the treatment?
Does someone need to go with me to treatments?
Can I take my other medicines during the treatment period?
Coping during treatment
What side effects should I watch for?
How long will side effects last?
Are there side effects that I need to call you about?
How do I reach you after hours and on weekends?
What can I do to ease the side effects?
How will we know if treatment is working?
How can my friends and family help me during treatment?
Are there support groups nearby that I can join?
After treatment
How will I feel after treatment?
Do I have to limit what I do?
What type of follow-up will I need after treatment?
How will we know if treatment worked?
What should I do to keep the cancer from coming back?
What changes should I watch for and tell you about?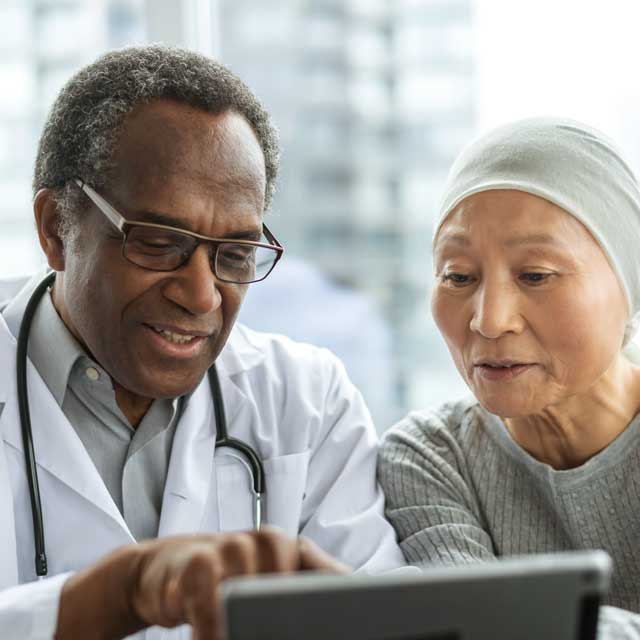 Vanderbilt Health's Urological Cancers team is dedicated to preventing, diagnosing and treating cancers that affect the kidney, bladder, prostate and testicles. The specialized team works together to provide a precise diagnosis and effective treatment options.