Midwives are known for delivering babies, but they also offer women healthcare throughout life. Midwifery care provides so much more for new mothers.
Finding someone you trust for your reproductive medical care can be overwhelming. There are many types of providers, with different backgrounds, expertise and models of care. Worldwide, midwives provide women with most of their healthcare during their reproductive years. People have become more aware of midwifery in recent years with the birth of royal babies into the arms of midwives, or because of popular TV shows like "Call the Midwife."
There are many misconceptions that midwives only see laboring women in the home birth setting. Although midwives do perform this service, they also do much more. Midwives are independent healthcare providers for women throughout much of their lives, from adolescence to menopause.
Midwifery care services can include:
Childbirth and postpartum care
Normal newborn care for the first 28 days of life
Primary care
Gynecologic care, including routine Pap smears
Birth control planning and fertility
Treatment of male partners who have sexually transmitted infections
There are several ways to become a midwife, but most midwives in the United States are advanced practice registered nurses who hold graduate-level degrees in nursing with specialized training in midwifery. They are known as certified nurse-midwives. Although there are a number of professional pathways in midwifery, they all share a similar philosophy on addressing the mind, body, spirit and health of each woman and respecting each woman's individuality and family. Midwives believe that women's life cycle events (menstruation, conception, pregnancy, labor, birth and breastfeeding) are normal processes, not medical problems.
Midwives can be found providing healthcare in homes, birth centers, hospitals, community and public health clinics and private OB-GYN practices. According to the American College of Nurse-Midwives, nurse-midwives attend 12% of the vaginal births in United States hospitals. They provide high-quality care.
Women who choose a midwife for their baby's delivery:
Are less likely to experience medical interventions.
Are more likely to be satisfied with their care.
Have similar or better outcomes for mom and baby than women delivering under other models of care.
Are more likely to have a spontaneous vaginal birth.
Are less likely to give birth prematurely.
Are less likely to need an epidural.
Because of the benefits midwifery care provides, large healthcare institutions have begun including midwives in their women's healthcare programs, and value the midwives' expertise. One excellent longtime example of a successful midwifery practice integration within a traditional healthcare setting is the Vanderbilt Nurse-Midwifery practice. It has three clinics: in the Melrose and West End neighborhoods in Nashville, Tennessee; and in Mt. Juliet, Tennessee.
This was written by midwives Robin Cobb, CNM; and Hannah Diaz, RN, MSN, CNM. They are part of the care team at Vanderbilt Midwifery and Women's Primary Care.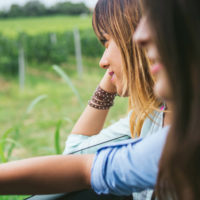 The Vanderbilt Nurse-Midwives have a combined 250 years of experience in caring for women throughout their lives. We educate and empower women to make the best decisions for their own health and that of their babies. Our midwives can help you have the birth you desire. We also have access to OB-GYNs and Vanderbilt's world-class neonatal care, should you or your baby need it. To learn more about Vanderbilt Midwifery, call 615-936-5858.