Maurice McAllister's heart was failing him. Being there to raise his teen daughters helped him more easily make the decision to opt for an innovative option in heart transplant at Vanderbilt. Read his heart transplant success story.
Maurice McAllister was at a high-school football game with his daughters in Knoxville when the call came, earlier than he had imagined: A donor heart was available.
He immediately wondered about the donor: How old was he? How did he die?
"I prayed for his family – their loss and pain of losing a loved one, as here I am, getting this gift," said Maurice, now 51.
Maurice went home, grabbed his bags and was at Vanderbilt University Medical Center in Nashville within four hours of the call. Much later, he learned his donor was a 27 year old who died of a drug overdose.
The transplant that followed on that day in October 2017 involved an innovative approach to heart transplantation that Vanderbilt has led – the use of hearts from hepatitis C-infected donors – and opened the door for Maurice's second chance at being there for his family.
"All I have to do now is just take care of this new gift I have," Maurice said. "That's amazing to me."
Getting treatment for heart failure
Maurice learned he had cardiomyopathy the week after his 40th birthday party. He came home from work one day really short of breath and the next thing he knew, he was in an ambulance. Ultimately he was started on medicines for his heart failure and received a defibrillator. Soon after this episode, his wife and mother of his two young daughters was diagnosed with stage 4 liver cancer. The next year, their 13 years of marriage ended with them in different rooms of the same hospital. He signed her hospice papers from his bed, was discharged on a Saturday and she passed on Sunday.
Not long after he lost his wife in 2012, Maurice learned his heart failure had advanced to the point that he needed a left ventricular assist device (LVAD), which he received at Vanderbilt on his birthday in 2016 to help support his heart in pumping blood.
Maurice then set out to lose 30 pounds in order to be eligible for a donor heart, and was put on the wait list on April 19, 2017. His surgery was performed at Vanderbilt on Oct. 28, 2017, a date he now calls his second birthday.
A new approach to heart transplant
In a practice pioneered by transplant teams at Vanderbilt, Maurice received a heart from a donor infected with hepatitis C. Advances in treatment for hepatitis C have allowed even immunosuppressed transplant patients to receive a new heart and be successfully treated if they develop hepatitis C after surgery.
"Hepatitis C is now a curable disease even in immunosuppressed patients, so in the fall of 2016 our program started to accept hepatitis C hearts for consenting patients on our wait list," said Dr. Kelly Schlendorf, medical director of the Adult Heart Transplant Program at Vanderbilt. "Some of these patients may not have made it to transplant otherwise. That's a big deal."
"Vanderbilt is the busiest heart transplant program in the world and is leading the way among transplant centers in using hearts from hepatitis C donors. We certainly have the largest experience of any program in the country."
Maurice chose the option after learning more. After surgery, he developed hepatitis C but took medication for 12 weeks and was cured.
"I trusted Vanderbilt," he said. "I made the decision based on thinking, 'Hey, I can't be selfish. I've got children to raise and it's not about me. I've come this far, so why turn back now?'"
Life after heart transplant
Maurice is now living a full life in Knoxville, enjoying being active in his daughters Asjha and Sydnei's lives. A former factory worker, he has found a new career direction, graduating cum laude in 2020 with a degree in chemical engineering technology at Roane State Community College. He landed a great job close to home as a chemical operator for Dow Chemical.
Moved by gratitude, Maurice used his heart transplant story to provide support to Vanderbilt patients who are getting LVADs or considering acceptance of hep C hearts. "Vanderbilt saved my life. I could have easily been told that there was nothing they could do for me. That's why I will be forever grateful."
Maurice's transplant coordinator Jan Lemanski, RN, BSN, said watching the transformation of this heart transplant story has been miraculous: "Knowing at the end of the day that he's out living his life and enjoying his children and going back to school and getting to do the things that he would've never gotten to do makes it all worth it. It's amazing to me even after all these years that I get to be a part of something life-changing, life-saving."
Schlendorf continues to be part of the transplant cardiology team caring for McAllister and his new heart, and she feels the same.
"What is most rewarding for me is the opportunity to be a part of the journey for people like Maurice – I met him in the very beginning when he was dying of heart failure and now get to see him living again because of heart transplantation and what we've been able to offer him. Stories like his are why I do what I do."
'Happier than ever'
As for Maurice, he says he wakes up happy every day, being with his daughters and riding his motorcycle.
"That's where I find my peace and solitude. I do a lot of time reflecting. You know, some people never stop and smell the flowers? That's something I do now. Just sit on the back deck and reflect. I do that kind of thing now.
"Life is great. I feel great. This is probably the happiest I've been in my whole life."
---
If you would like to consider the opportunity to register as an organ donor, you can find out more through Tennessee Donor Services or Donate Life.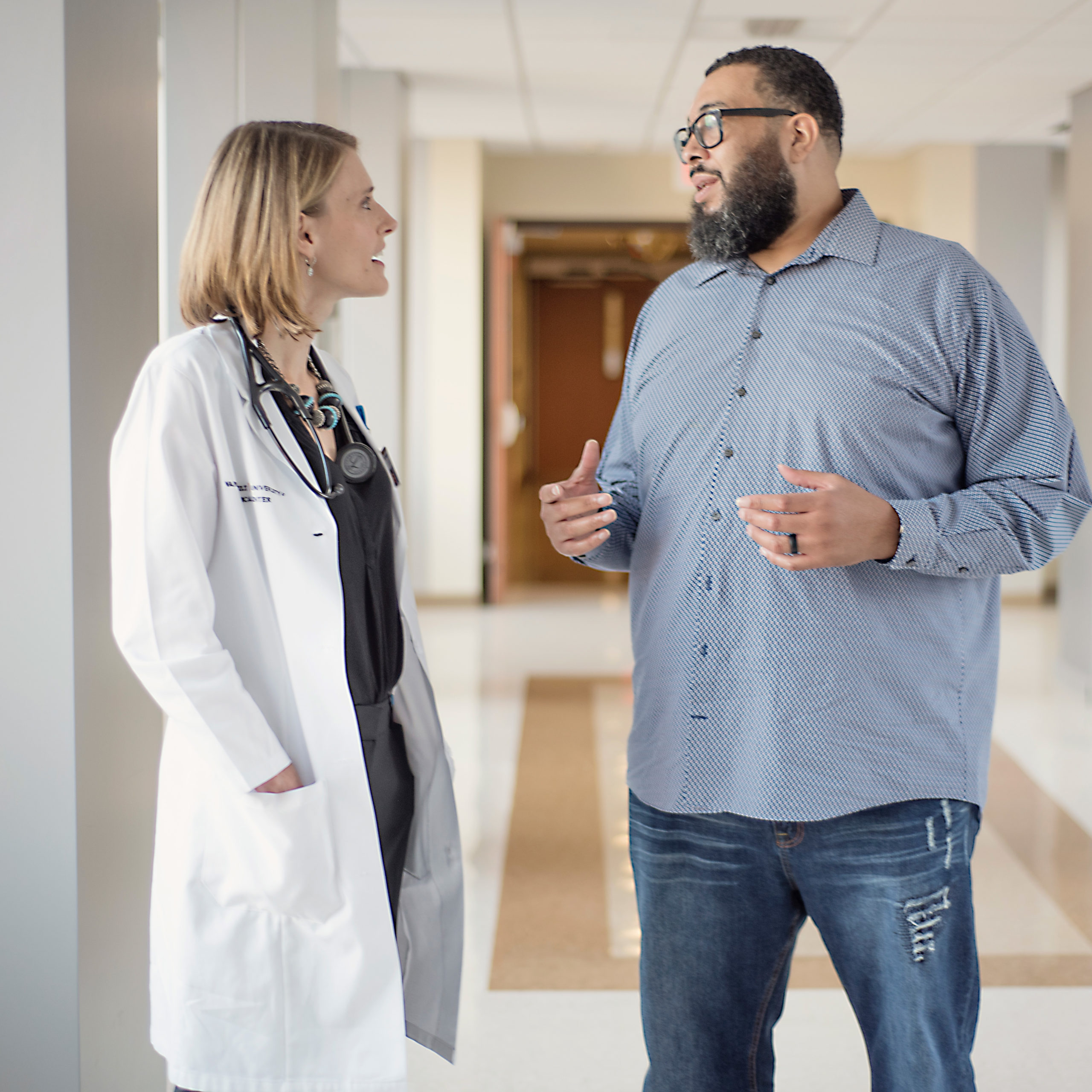 Leading the world
Vanderbilt Health performs more heart transplants than any other program in the world, providing patients with outstanding outcomes and access to innovative new research and treatments.