Internet safety starts with talking to your kids about online dangers and how to avoid them.
Every parent worries about internet safety and the dangers their children might encounter when they go online. And one of their major fears is that their children will unknowingly encounter an online predator and get pulled into a dangerous situation.
The process by which an online predator slowly pulls a child under their influence is called "grooming." Essentially, it's manipulation. Predators target children and then draw them in, with the first goal of building trust. Their ultimate goal is to convince children to meet them offline so they can take advantage of them. This might include putting them in a compromising position, or even assaulting or sexually abusing them.
Online predators often use some of these tactics:
Flattery. They compliment children about appearance or other characteristics.
Sympathy. They express sympathy and make children feel like someone understands them.
Asking for privacy. They ask to chat with children in private chat rooms or by text, so no one else can monitor their interactions.
Asking personal questions. They ask lots of questions about the children. The more personal info they have, the better they'll know what to offer to sway them.
Intimidation. They may issue threats in an attempt to manipulate children into doing what they want them to do.
Internet safety tips
The first thing you can do is talk with your child about online safety. Talk calmly about the possible dangers that can result and about the importance of being careful when interacting with anyone online. You can begin this conversation as soon as your child begins to venture online, and the advice can be age-appropriate— caution about divulging personal information, awareness of bullying and eventually warnings of a sexual nature.
In fact, pediatrician and adolescent medicine specialist Mary Romano, M.D., suggests that you start off by setting a major ground rule: "Tell them them cannot be internet friends with anyone they've never met in person," said Romano, assistant professor of Pediatrics at Monroe Carell Jr. Children's Hospital at Vanderbilt. That will reduce—or even eliminate—the chances that they'll be in regular contact online with someone who's posing as another tween or teen.
Parents can learn more about the distinctions between different social media platforms, download teen internet-usage agreements and more from Internet Safety 101; Common Sense Media; and from the National Cybersecurity Alliance.
Other strategies to help you guide your child toward a better, safer online experience:
Put the computer in the family room or kitchen.
"Any internet use or chatting should be done in a public viewing area, where Mom and Dad can see it," Romano said. "There's no going off in a corner."
Don't let devices remain in their bedrooms overnight.
When it's lights-out time, the smartphones, tablets and any other devices should be attached to their charging stations in the kitchen or your room, where a parent can monitor them. No late-night texting or emailing or chatting with people when you're not aware of it.
Set limits on what apps and programs your child can use.
Do some homework and read up on the programs and apps that your children want to use. Don't be afraid to put some off limits, or set clearly defined boundaries for their use.
Watch out for unusual behavior from your child.
Teens and tweens are notorious for their mood swings, but overly moody behavior might alert you to something that's going on. If your child is acting more withdrawn and isolated than usual, he or she may be getting too invested in online life. Or your child could be under the influence of someone who is trying to manipulate.
Friend your child.
And make sure your child friends or follows you back. You want your kids to know that you're monitoring their social media use.
The internet can be a positive experience. It can enhance your child's learning and social experiences, but it should not replace real-life interactions, Romano said. Parents should be firm in their ground rules and trust their guts.
"If something doesn't feel right, it probably isn't," she noted.
Your child's primary healthcare provider can be a great resource to help you talk to your child or to get more information to keep everybody safe and healthy.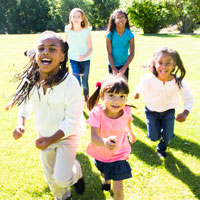 Monroe Carell Jr. Children's Hospital at Vanderbilt is among the top children's hospitals in the nation. More than 500 physicians in 30 pediatric and surgical specialties offer everything from basic preventive care to treatment for the most complex pediatric conditions. Our specialists offer expert care close to home, throughout Middle Tennessee and beyond.