Eye experts alert parents and pediatricians about watching for visual symptoms, along with all the others concussion can bring.
A range of symptoms can signal that a child has a concussion after an injury, often while playing sports. But concussion symptoms in the eyes and vision haven't received as much attention, and some pediatric experts are working to change that.
Visual symptoms are common in children and adolescents who suffer concussions, and it's essential that pediatricians and other medical professionals know how to screen, identify and manage visual symptoms after this common childhood injury, said Dr. Sean Donahue, chief of pediatric ophthalmology at Monroe Carell Jr. Children's Hospital at Vanderbilt.
Donahue is the co-author of a first-of-its-kind policy statement in a recent issue of the journal Pediatrics, the official peer-reviewed journal of the American Academy of Pediatrics. The statement was issued in conjunction with the American Academy of Ophthalmology, the American Association for Pediatric Ophthalmology and Strabismus and the American Association of Certified Orthoptists.
One study reported that 69% of children and adolescents with a concussion had at least one associated vision disorder, the statement notes.
What parents and providers should know about concussion vision symptoms
"Early identification and appropriate management of visual symptoms, such as convergence insufficiency (when your eyes don't work together) or accommodative insufficiency (when you can't focus on nearby objects) may mitigate the negative effects of concussion on children and adolescents and their quality of life," the statement reads.
"Parents are very concerned about their kids in contact sports having repeated concussions in football or soccer, or because they bang heads with someone on the trampoline," Donahue said. "There's been a real controversy in the field about vision rehabilitation and the best way to manage these patients. It's nice to have an official statement that the various academies recognize that gives direction to pediatricians, and pediatric ophthalmologists, about what to look for, how to give guidance to parents and how to treat those who suffer from the effects of a concussion."
Pediatricians play an important role in the initial diagnosis and management of children who have suffered a concussion, Donahue said, because they are usually the first contacts for patients suffering a concussion.
How to identify concussion symptoms in eyes
Visual complaints are among the myriad symptoms that patients report after a concussion, and blurred vision, light sensitivity and double vision occur in up to 40% of children and adolescents. Other visual symptoms may include losing one's place or eye fatigue when reading.
Concussion symptoms in most patients spontaneously resolve in about four weeks, Donahue said. Up to a third of patients may have prolonged symptoms.
Donahue said that children are often unable to recognize or articulate specific visual complaints, so the health-care providers who see them should be particularly aware of identifying specific vision issues.
Since there's currently a lack of high-quality evidence supporting treatment of concussion-associated visual symptoms, such as double vision or blurred vision, with vision therapy, additional study is needed, Donahue said. But reading glasses with or without prisms is sometimes helpful with reading.
What else to know about concussions
Concussion affects about 1.4 million children and adolescents each year in the United States, occurring most often in sports and recreational settings. Chronic and repeated concussions can lead to severe and permanent brain injury, which has been reported in professional football players.
Children and teens who show or report one or more of the signs and symptoms listed below, or simply say they just "don't feel right" after a bump, blow, or jolt to the head or body, may have a concussion or more serious brain injury, according to the Centers for Disease Control and Prevention.
Observed symptoms, beyond visual ones, include:
Can't recall events prior to or after a hit or fall.
Appears dazed or stunned.
Forgets an instruction, is confused about an assignment or position, or is unsure of the game, score, or opponent.
Moves clumsily.
Answers questions slowly.
Loses consciousness (even briefly).
Reported symptoms include:
Headache or "pressure" in head.
Nausea or vomiting.
Balance problems or dizziness, or double or blurry vision.
Bothered by light or noise.
Feeling sluggish, hazy, foggy, or groggy.
Confusion, or concentration or memory problems.
Just not "feeling right," or "feeling down"
This post was written by Nancy Humphrey, an information officer for Vanderbilt University Medical Center Department of News and Communications. A version of this story originally published in VUMC's The Reporter.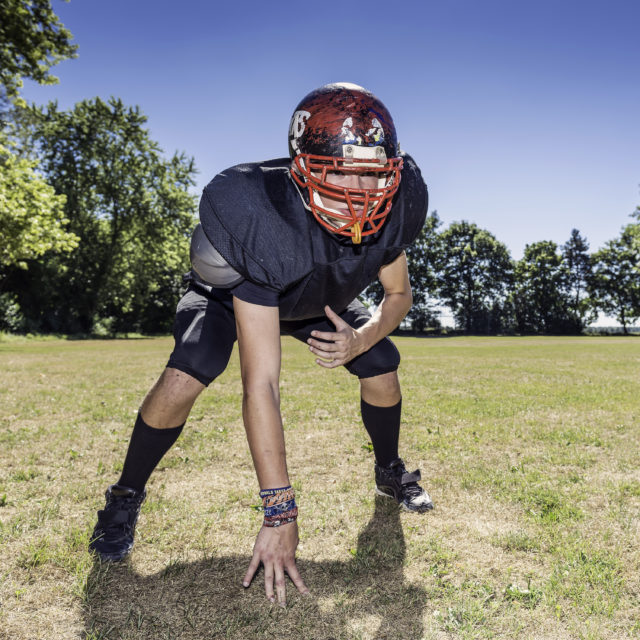 Personalized care for athletes
The Vanderbilt Youth Sports Health Center is dedicated to helping young athletes avoid or recover from injuries and illnesses so they can improve and compete at their best levels. The center is a partnership between Vanderbilt Sports Medicine and Monroe Carell Jr. Children's Hospital at Vanderbilt. To schedule an appointment, call 615-421-8900 or visit the website.