Get the whole family involved in home safety by developing a fire safety plan.
Now is a good time to take stock of family safety. Being prepared with a fire safety plan is important for the household, especially as the risk of fires at home increases as the weather turns colder.
Be prepared
Follow these tips to be prepared for a fire emergency and develop a fire safety plan to protect your family.
Install smoke alarms on each level of your home and outside each sleeping area.
Test smoke alarms regularly each month by pushing the "test button" (use a broom handle or stick to test alarms that are too high, or ask someone to help you).
If the alarms have batteries, replace the batteries at least twice a year. If an alarm is "chirping," this means that the battery is low and needs to be changed.
Clean alarms with a vacuum cleaner, without removing the cover from the alarm.
Never remove an alarm battery just because it sounds off while you're cooking.
If a battery-operated smoke alarm is more than 10 years old, replace the unit with a new one.
Develop a realistic escape plan with two ways out of every room. Practice the plan, keeping in mind your physical abilities.
Keep all exits clear.
Keep glasses, medicines, a telephone, a flashlight and walking aids close to your bed.
Have a visible address on your home.
Know your emergency contact phone number (911 or other).
If a fire happens
Stay calm and use your escape plan.
If a door is hot to the touch, do not open it. Fire and deadly smoke are on the other side of the door. Instead, use your alternate exit.
When escaping through smoke, crawl low to the ground, if possible, where it is easier to breathe. Smoke rises in a fire and contains deadly gases. Even one breath can make you pass out.
If you're in a multi-story building when fire occurs, use the stairs. Do not use the elevator.
Once outside the building, call or be sure that someone has called your emergency number (911 or another) from a neighbor's house, a cellphone or a cordless phone. Listen and give the information needed (name, address, location of fire, etc.) as calmly as possible.
If in a group residence setting, once outside, count to make sure everyone is out. If someone is missing, tell firefighters where the person is, if known.
What if my clothes catch fire?
If your clothing catches fire, STOP (do not run), DROP (to the ground) and ROLL (around to smother the flames)
If you cannot Stop, Drop and Roll, smother the flames with a towel or blanket.
Remove clothing over burns and call for medical help.
Source: Vanderbilt Burn Center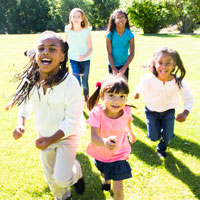 A leading hospital for children
Monroe Carell Jr. Children's Hospital at Vanderbilt is among the top children's hospitals in the nation. More than 500 physicians in 30 pediatric and surgical specialties offer everything from basic preventive care to treatment for the most complex pediatric conditions. Specialists offer expert care close to home, throughout Middle Tennessee and beyond.