To ease your mind and best prepare the sitter, talk through these safety points before leaving the house.
Parents, sometimes you need a break from the demands of caring for children. So plan some time away from home to relax and enjoy some kid-free fun! But this means leaving your children with a babysitter.
Trusting your children with a babysitter can be hard for some parents. Knowing the sitter is up to speed on safety in your home will help you relax. Having a safety conversation with the sitter will give you peace of mind, and give the babysitter a chance to ask you questions about how to best care for your child. It's good to ask if the sitter has an American Red Cross Babysitter certification. (If not, consider offering to pay for this helpful class for your babysitter.)
Talk with your babysitter about these safety points. Leaving a written list with the sitter is a good idea, too:
Remind the sitter that infants should not be left on an adult bed of any kind.
Remind your babysitter of the ABCs of Safe Sleep: Babies should always be placed to sleep alone, on their back, and in a crib. This means a crib free of bedding, toys, pillows, quilts, etc.
Be sure the babysitter knows the signs of illness in an infant, including changes in skin color, sweating, nausea or vomiting, and diarrhea.
Show the babysitter where you keep the fire extinguisher and first aid supplies.
Provide emergency contact information, including your or your spouse's mobile number, how to reach a neighbor, and the Poison Control Center number: 1-800-222-1222. (You've already childproofed your home to cut the risk of poisoning, yes?)
Infants should not play with small items that can fit in their mouths, such as toy parts and game pieces. These are choking hazards.
Remind the sitter to keep the bathroom door closed and the toilet seat down when not using them, so toddlers are less likely to topple into the toilet.
Children should never be left alone in the bathtub, on the changing table, or anywhere else, except to sleep in their cribs.
Remind the sitter to take the children along should she or he need to leave the room, for example to answer the telephone.
Instruct your babysitter on food safety and medicine dosage. If your children should or should not eat specific foods, let the sitter know. If medication must be taken, explain the dosage and how often to give the child medicine. If your child does not regularly take any sort of medication, tell the sitter not to use any without consulting with you first.
Explain any food restrictions, allergies or intolerances. Ensure the sitter understands proper food portion and bite sizes depending on your children's ages.
Remind them to put away all poisonous or hazardous products after use, such as cleaning products and medications.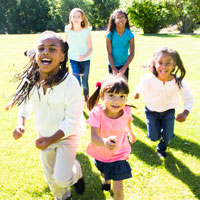 Monroe Carell Jr. Children's Hospital at Vanderbilt is among the top children's hospitals in the nation. More than 500 physicians in 30 pediatric and surgical specialties offer everything from basic preventive care to treatment for the most complex pediatric conditions. Our specialists offer expert care close to home, throughout Middle Tennessee and beyond.