Have you ever wondered why you can still get a mild case of respiratory infection even after getting the vaccine? Read on for the explanation.
Maybe it's happened to you: You pulled up your sleeve for a vaccine — your yearly flu vaccine, say, or a COVID-19 vaccine series — and thought you were in the clear. And then, weeks later, the symptoms appeared — fever, cough, aches and pains. Luckily, it didn't last long, and those symptoms remained mild. But it probably left you thinking: How was I sick after getting a vaccine? Why did I get that vaccine, if it didn't do its job?
The truth is, that vaccine did do its job. It's just that its job was to keep the infection from progressing to severe disease.
"It can be difficult for the average person who's not a scientist or infectious disease doctor to understand vaccines," said infectious disease expert Dr. William Schaffner, a professor of Preventive Medicine at Vanderbilt University Medical Center. "If a vaccine can prevent serious disease, why can't it prevent mild disease?"
Respiratory viruses and vaccines
"It's important to remember that both influenza and COVID-19 are respiratory viruses," Schaffner said. "They come to us, we inhale them and they infect the cells on the surface of our mucous membranes."
Schaffner explained that the antibodies that are created by the vaccine to prevent you from getting seriously sick, however, are found in the bloodstream. "They can't get out on the surface to the mucous membranes very well," he said. "So the viruses can actually cause mild illness on the mucous membranes — runny noses, sore throats, coughs. But when those viruses leave the mucous membranes and get into the bloodstream, that's when the antibodies jump on and neutralize them and prevent them from producing more severe disease."
"Think of it as a two-part phenomenon," he continued. "The viruses can get on the mucous membranes and cause mild illness. But when they want to disseminate and get down into our lungs and affect our heart, kidneys and other organs, that's when the antibodies from the vaccines get to work."
How to protect yourself from COVID-19
You are considered up-to-date on your COVID-19 protection if you have completed a COVID-19 vaccine primary series and received the most recent bivalent booster dose recommended for you by Centers for Disease Control and Prevention. Learn more by reviewing the CDC's current guidelines.
How to protect yourself from flu
According to the CDC, everyone 6 months and older should get a flu vaccine every season with rare exceptions. Vaccination is particularly important for people who are at higher risk of serious complications from influenza. Several vaccination options are available — find out which one is the right one for you by reading the CDC's current guidelines.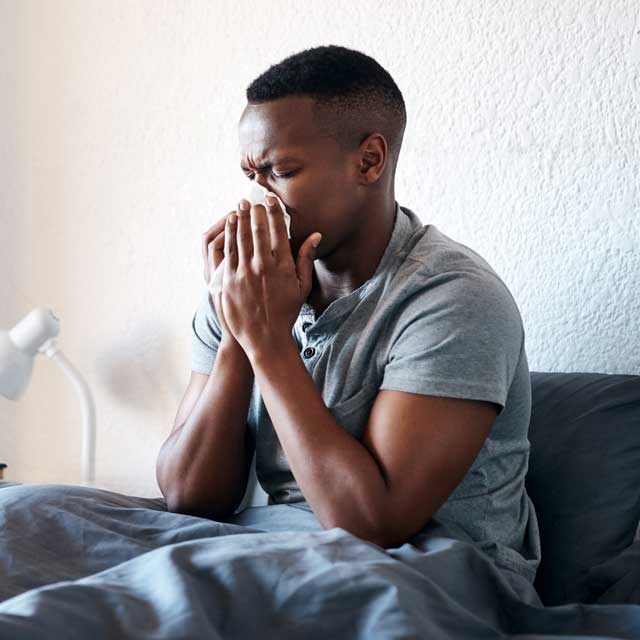 The care right now that's right for you
If you or your loved one is feeling sick or has a minor injury, Vanderbilt Health is here to help you get better fast. Vanderbilt offers dozens of locations with convenient hours throughout Middle Tennessee—and can even bring a provider to you.
Vanderbilt's Children's After-Hours Clinics offer the convenience of a walk-in clinic with care provided by a board-certified pediatrician from Children's Hospital. No appointment is necessary, but we recommend calling your pediatrician first. Learn more about services and find locations for Children's Hospital After-Hours Clinic here.